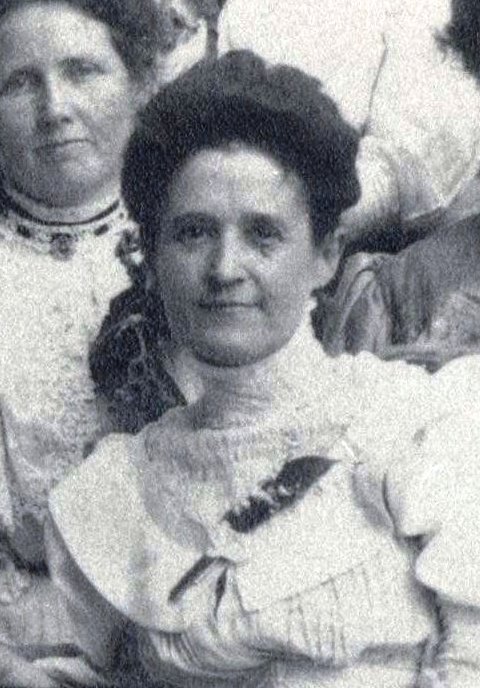 Elizabeth L. Evarts Richards Verrill
One of the Four Founding Members of the Chevy Chase Reading Class
Elizabeth Richards Verrill, 1859-1914.
Although Elizabeth Verrill was referred to as the "beloved founder" of the Chevy Chase Reading Class, and she was the founding member responsible for creating the reading lists for the first five years, we know very little about her.  Our main sources are the loving tribute by members of the Reading Class at the time of her death:  "courage and cheerfulness... intellectual vigor," and a few public records and newspaper articles.
Elizabeth Verrill was born in Ohio, in 1859, and she died of tuberculosis at her home at 12 East Melrose Street on July 3, 1914.  She was buried in a cemetery in Dayton, Ohio, probably in an Evarts family plot.
She married George W. Richards, also from Ohio.  According to Census Records, their son George M. Richards was born in 1886 in Ohio.  We do not know when Mr. Richards died, but in 1887, Mrs. Elizabeth L. Richards is listed in a Washington city directory as the widow of George Richards, living at 1622 24th Avenue in the District of Columbia.  She was working as a stationer, perhaps at one of the stationery and book stores on Pennsylvania Avenue.
Although we have no records of her attending college, she was clearly very well educated.  Two years later, in 1889, Mrs. Elizabeth L. Richards is listed as an employee in the position of clerk at the U.S. Department of Commerce and Labor. This government personnel directory also lists that she was born in Ohio, appointed from Ohio, and her salary was $1200 per year.  She was one of just a handful of women in that position and salary level.  One of her co-workers, also a clerk earning $1200 per year, was Charles H. Verrill, a graduate of Bowdoin College.
Elizabeth and Charles married in 1894.  But in 1893, the year before their marriage, Elizabeth Richards filed for George W. Richards' Civil War Pension.  Mr. Richards had served in the Army.  Although there are no dependents listed in her application, we know from the 1910 Census that Elizabeth and George Richards' son, George M. Richards, was born in 1886, so he was seven when she applied for the pension.
When Elizabeth Richards and Charles Verrill married on November 28, 1894, Elizabeth was 35 years old, with an eight year old son.  The Verrills purchased their house at 12 East Melrose Street in Chevy Chase on July 1, 1895 from the original builders, Henry M. Earle, Louis Meline, and Memche Meline.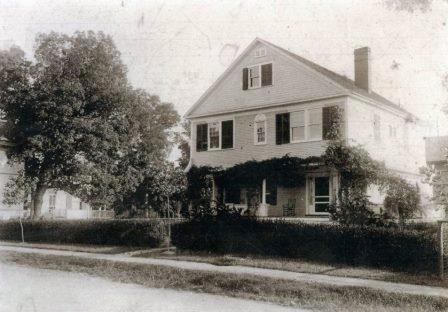 Charles Verrill was born in 1866 in Auburn, Maine.  From a Bowdoin College alumni publication, we learn that he was one of the one of the top students in his class and president of the student body in his senior year.  After graduating in 1877, he clerked in Boston, then left for a clerkship at the Department of Labor in Washington, DC.  In 1895, he was promoted and became "one of the department's statistical experts."  While working at the Labor Department, he earned a law degree from Georgetown University.  In subsequent years, local city directories list him as an "Expert" at the Department of Labor.
The Verrills were involved in neighborhood organizations and local activities of Chevy Chase and the greater Washington area.  Elizabeth attended the second National Mothers Convention, organized by Chevy Chase resident Mrs. A. A. Birney, and worked at the conference by pinning on badges and asking for ten cents from each attendee.  Her presence was noted in a long article about the conference in The Evening Star: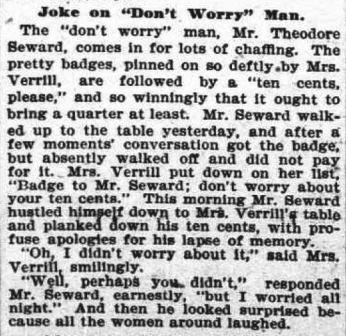 "The pretty badges, pinned on so deftly by Mrs. Verrill, are followed by a "ten cents, please," and so winningly that it ought to bring a quarter at least."
The following year, Elizabeth Verrill invited three other Chevy Chase women to join in the first meetings of the Chevy Chase Reading Class.
"In the Autumn of 1899, it was suggested to Mrs. Verrill by Mrs. Cousar [possibly Couper], then living in Chevy Chase, that we inaugurate a Reading Class, modeled on one Mrs. Cousar had attended.  The idea seemed a good one, and Mrs. Verrill invited Mrs. Mary B. Robertson, Mrs. Grace R. Bowen and Mrs. Fannie O. Richards to unite in forming such a class."
The first entry in "An Outline History of the Chevy Chase Reading Class."
We do not know what mutual interests may have brought these four women together – they were all mothers of young children, and lived close to each other in the new suburb of Chevy Chase.  But we can imagine that they all shared a love of reading and learning.  The members of the group seemed to hold Elizabeth Verrill in high regard, for she was the member who chose the readings for the first five years – until she "begged to be retired" in 1904: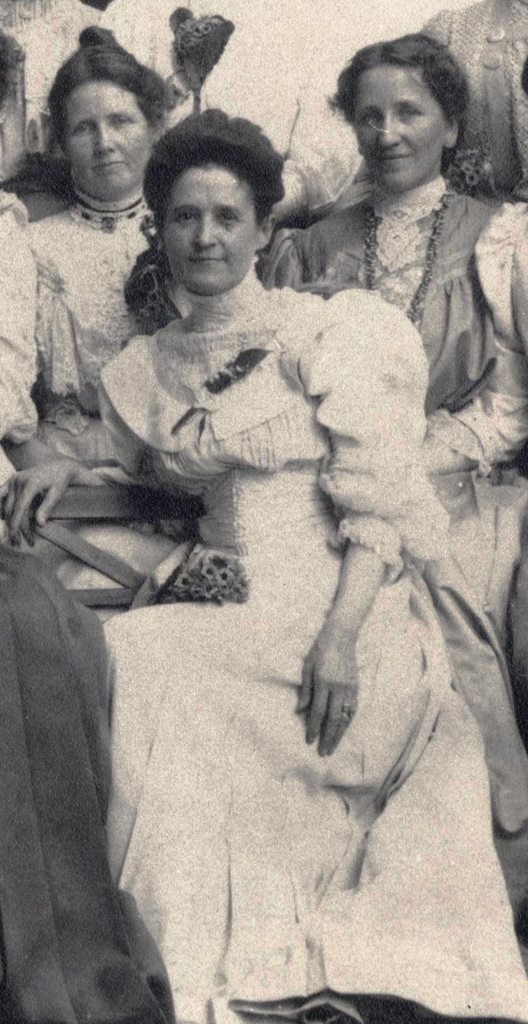 "From the organization of the class to and including this year, Mrs. Verrill, after consultation with the class, had decided on the courses, assigned the lessons, and made the programs.  Being now convinced that the class was as well qualified to do this work as she was, she begged to be retired, and to place her privileges in the hands of the class." From "An Outline History of the Chevy Chase Reading Class," 1904.
Elizabeth and Charles Verrill were active in the Chevy Chase Free Library Association.  In 1903, Elizabeth sold cakes with Mrs. Dawson at the "Country Fair" in support of the Library, and Charles was elected President.  The Verrills were also members of the Literary Club.  In February 1907, Charles read an essay, titled "The Church and State Separating Movement in France."  In May of that same year, Elizabeth read a paper about the Limerick.  The Verrills were the hosts for the Literary Club in December 1907.  The following year, Mr. Verrill was elected Chairman of the group, but he later declined to take the leadership.  This may have been because Elizabeth was not well.  She missed many of the Reading Class meetings in 1907, and traveled to California that year, perhaps for her health.
In March 1909, however,she participated in a Literary Club meeting, reading her translation of a piece called "The Rivals":
"The first part of the Entertainment was a Harvard Sketch, entitled "A Serious Situation in Burleigh's Room;" this was followed by "The Rivals," a translation from the French by Mrs. Verrill; and "The Mouse Trap," a farce by William Dean Howells, concluded the program." - Chevy Chase Association Literary Club Ledger
Although Elizabeth was re-elected the Chair of the Reading Class Program Committee in 1910, 1911 and 1912, she was frequently absent due to illness.  Local newspaper notices in the society sections list Mr. Verrill at various events in these years, but never Mrs. Verrill.  By now, it would seem that she was bedridden.  In her CCHS oral history interview in 1987, Edith Claude Jarvis recalled the Verrills, and remembered that Mrs. Verrill had tuberculosis.
 
"And they built a sleeping porch on the back of the house, where she slept all winter, because in those days, they seemed to think that T. B. could be cured by sleeping outdoors on a sleeping porch."
Elizabeth Verrill died at her home on July 3, 1914.  Her friends included this resolution in their Outline History of the Chevy Chase Reading Class:
 
"Whereas, on July 3rd, the beloved Founder of this Class, Mrs. Elizabeth L. Verrill, passed from our midst into the life beyond."
"Resolved, That we lovingly acknowledge her leadership, not only as Founder of this Class, but as a member whose ideals have, through many years, guided us in work that has been both a profit and a pleasure.  That we record our special admiration of the courage and cheerfulness with which she bore many years of illness, of the unfaltering interest in life and humanity which she maintained through it all, and of the intellectual vigor, which in spite of bodily weakness, stimulated to thought and action those who sought her counsel and companionship."
"Resolved further, That a copy of these resolutions be spread upon the minutes of the Chevy Chase Reading Class and that copies be sent to the husband, son, and brother of the deceased."
Mary B. Robertson
Committee on Resolutions.
Charles Verrill and his step-son George Richards continued to live at the house on East Melrose Street until Charles died in 1928. Later that same year, the house was sold to the Peabody family.  According to Census records, by 1930, her son George M. Richards was living in the District of Columbia, as a lodger.  He was still single, working as a clerk for the U.S. Weather Service.